What is the Access Loan New Mexico Program?
Access Loan New Mexico is a statewide, low interest loan program that allows New Mexicans with disabilities to purchase assistive technology or make home modifications so that the individual can live more independently or productively.
What can I buy with the loans?
Examples of Assistive Technology:
Wheelchairs & motorized scooters
Hearing Aids
Magnifiers and other visual aids
Computers with modifications
Control/switches for lights, doors, and appliances
Vehicles with lifts or hand controls
You can also use Access Loan New Mexico to make certain modifications to your home. Examples of home modifications: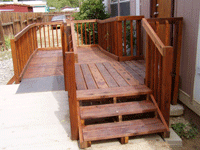 Kitchen redesign
Roll-in showers or other bathroom modifications
Widening of doorways
Ramps and home accessibility modifications
What if my credit record is poor or I don't have a job?
Your application is reviewed on the basis of your ability to make the monthly payments, to pay back the loan. Your Social Security, disability, or retirement benefits are taken into consideration as income. Your debt, stability in your residence, and job are also considered. Some applicants are denied, but Access Loan New Mexico's criteria are more flexible than most banks.
How much money can I borrow?
Generally, it is based on affordability. You may apply for the amount you need, but actual loan amounts will depend on the item purchased and your ability to repay. The average maximum amount is about $25,000.
What do I need to do to apply for a loan?
Complete an Access Loan Application (Download Access Loan New Mexico App Application – MS Word)
Complete a Four Corners Community Bank Application (Download Four Corners Community Bank Application – PDF)
Complete a Disclosure Consent Form (Download Authorization to Request Release Confidential Records and Information – MS Word)
Submit the above documents to:
Damon Wright
1204 San Juan Blvd
Farmington, NM 87401
Ph: (505) 566-5831
Fx: (505) 566-5842
dwright@sjci.org
The loan committee reviews all documents with approval or denial of the request within a week. Loan closing is done with FCCB and completion of a satisfaction survey is requested.
Toll Free in NM 1-877-484-4500
For more information you can visit us on the web at: